More than half of all outdated and unused computer equipment is currently doing nothing but taking up space. It's stuffed in closets, crammed in cupboards, or stacked haphazardly in the corner of an unused office and not doing you or anyone else any good.
Part of the reason this continues to be common practice for businesses is the fact that we know things like computers shouldn't wind up tossed in a dumpster. The toxic chemicals found in various components can do real damage if they find their way into groundwater and soil because they've ended up in a landfill. That's why electronics recycling facilities exist. But getting your technology there isn't as easy as setting it on the curb, so in your closet it stays.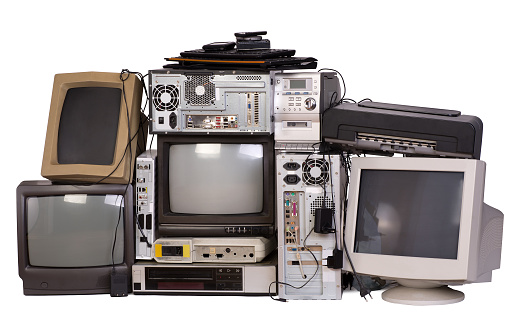 Saturday, April 22nd is Earth Day, and to mark the occasion, we're going to share a few tips with you to help you clean out all of your computer clutter in a way that keeps our planet green, benefits your community, and protects your business' sensitive data.
Let's start by reviewing your options.
Disposal
Computers that are beyond repair can be brought to public drop-off stations or certain electronics retailers. Components like plastic and metal, and glass from old monitors can be repurposed, while things like batteries are disposed of safely.
Donation
Places like schools, churches, and community centers are often more than happy to take old technology off of your hands, either as a gift or for a small fee. Minor upgrades and repairs come at a much lower cost than a brand new system, making used equipment a budget-friendly option for these types of facilities. A lot of second-hand stores accept electronics of all kinds and offer a more affordable option for members of the community that wouldn't be able to afford that technology otherwise. Either way, you'll be helping someone get access to the technology they need.
Resale
If you were hoping instead to make a profit off of your old equipment, you could always take advantage of an online classified site to sell that technology locally. You also have the option of using a recycling program like Gazelle that will buy technology from you for a fair price to resell themselves, saving you a little extra work.
Repurpose
Before you box up your old equipment to hand off to someone else, you should consider whether or not it's as useless to you as it seems. Something as simple as upgrading a graphics card or investing in added memory can tack on a few more years to the life of your current computers, and save you the expense of replacing them. Old hard drives can be repurposed to serve as a data backup resource, and monitors can be added to a current setup to create a dual monitor system (a configuration that often translates into a productivity boost for small business employees) at no extra cost to you.
Once you've decided to ship your old computers off to greener pastures, there is one final – and critical – step you need to take. Regardless of where that technology is about to end up, you need to be sure that all of your sensitive business information has been scrubbed from the device in question. Customer data, financial information, and any other pieces of information that you don't want ending up in the wrong hands should be carefully removed.
Just erasing the files won't cut it, either. Data-wiping software can make retrieving deleted files a much more complicated process, but won't stop a cyber criminal who is determined and knows what they're doing. Your best option is to remove the hard drive completely and dispose of it separate from the computer itself. Most retailers who offer recycling services are careful to destroy hard drives effectively, but it never hurts to be cautious where your critical data is concerned. And it should go without saying that if you are donating or selling your equipment, the hard drive should stay with you.
Whichever option you choose when you finally decide to part with your outdated and unused technology, keep these tips in mind and keep your electronics out of the trash. That may add a few extra steps to the process for you, but that effort is well worth it in the end. Particularly where security is concerned.
Getting ready to do a little spring cleaning around the office? Give us a call before any of your technology goes out the door, and we'll ensure all your confidential and sensitive information is properly removed. Don't let a good deed create a security risk for your business. Contact at or today.