Become a force to be reckoned with this May the Fourth with a strong password that works behind the scenes of your accounts.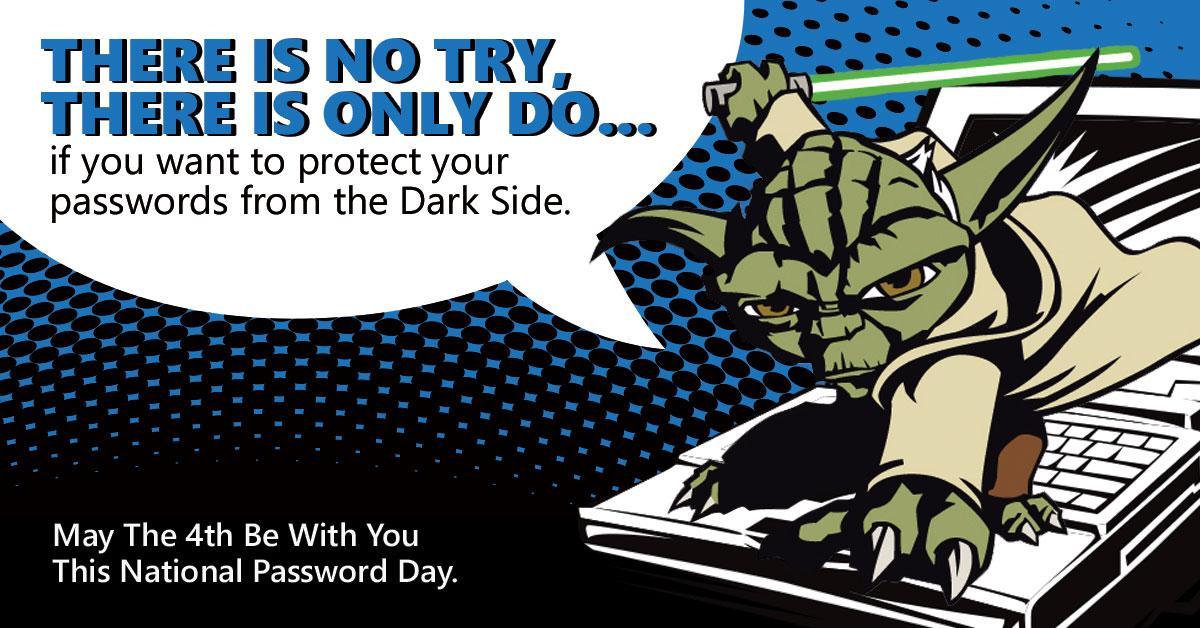 May the fourth is quickly approaching. This exciting day marks a time when the world's attention turns to celebrating an iconic movie series that has generated a following spanning more than 30 years. On May 4th, the world will celebrate Star Wars Day in a variety of ways. These include dressing up as their favorite character, creating tasty treats that depict iconic scenes, binge watching the series and numerous other creative ways of paying homage to the Star Wars movie franchise. People of all ages, and who live all over the world, will do their best to live up to the Star Wars Day slogan of "May the Fourth Be With You!"
There's Another Reason to Celebrate That Day, Too
Star Wars Day is not the only important event that is happening on May 4th, though. That day has been designated as World Password Day 2017. It marks the day that you can join thousands of people and organizations across the globe as they take a pledge on social media to make improvements to their password habits. Industry giants like Intel, Dell, Lenovo, TeleSign, BBB and more, are supporting World Password Day and propelling people to embrace its initiatives.
Active Internet Security Involves More Than Just Passwords
These days, maintaining your security online is vital to protecting everything that is important to you. Whether it's your social media accounts, email or bank account, ensuring that your information is secure and private is vital to protecting everything from your job and your money to your reputation and your relationships. Unlike in the past, though, a strong password is only the starting point in staying secure online.
Step One: Create a Strong Password
After you create a strong password — or even a passphrase as suggested by the Password Day website — you'll need to move on to the other three steps to fully secure your online existence.
Step Two: Create Different Passwords
It's important that you create a different password for every site you visit. A useful analogy to help you realize the dangers that exist if you use the same password everywhere you visit online is the damage that can be done to your life if it took only one key to open your front door, your safe, your bank and your car. The criminals who steal passwords use them to get into websites of all types — often with a large success because people use the same password in multiple places.
Step Three: Find a Password Manager
To facilitate quick access to your sites, you need a good password manager that stores all your passwords safely and securely. A master password is required for you to access your password manager. Because the master password is only recognized from a registered device, it's hard for someone to log on from an unknown device.
Step Four: Add Multi-Factor Authentication
Chances are, you've already been using — or at least been exposed to — multi-factor authentication without knowing its fancy name. Using a fingerprint reader to unlock your phone and having a secret code texted to you before you could access account information for an account whose password you'd forgotten are just a couple of ways that your true identity is verified to protect your information.
When combined, these four steps help you build a more secure online presence. This World Password Day, adopt measures to put the force of a strong password behind you so you can surf the web knowing that your accounts and their information won't be compromised.
At , we provide our readers with the latest tech information they need to stay secure. For more tips on security, call us at or us today.