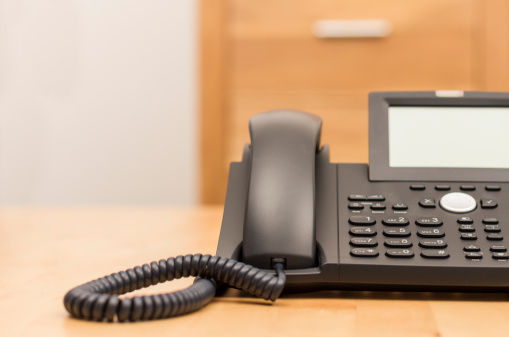 How much does your business spend every month on your phone bill? Your first answer is probably "more than you'd like," but it's actually closer to "more than you need to."
In order to stay connected with your clients and colleagues, you're probably spending upwards of a few hundred dollars every month on your phone system. Every year, phone services get more expensive, but what can you do? There's no question – when you're talking to a prospective client, email just isn't going to cut it. Nothing beats a good phone call. So how do you balance having the phone systems you need while making every dollar count?
We have the answer. At , we provide reliable, flexible, and cost-effective Voice over Internet Protocol (VoIP) phones for law firms in Fort Lauderdale. Call us at to book a no-risk review of your business IT to see how a VoIP network can improve your business and save you money.
VoIP phones are infinitely superior to traditional phone lines. Not only can you take advantage of business-class features normally only available to large-scale corporations, but you also get better reliability and flexibility at a fraction of the cost. Here are some of the benefits you get from our VoIP service:
Cost-Effective: Our VoIP phones come at a single flat-rate monthly fee with no hidden charges, potentially cutting your phone bill in half every month. Period. No hidden charges. Spend your money on improving your business to better serve your clients.
Flexible: You can access your VoIP phone system from anywhere with an Internet connection, whether it's at the office, at home, or outside the courtroom on your mobile devices. Stay in touch with your clients whenever you need to with the same phone lines you use in the office – no confusing extra cell numbers to make clients remember.
Reliable: Our VoIP network is guaranteed to be available at all times from the cloud. No power outage or storm will ever cut out your phones, so you can always rely on them to keep you connected with your clients.
Plus it's easy to make the switch to VoIP phones. Our team will handle the entire process, streamlining how you access your phone network and making sure that everyone can use it with whatever devices you need. Get the equipment, the service, the set up, and the support – all for one flat rate. You can't beat that.
With , you can increase your phones' reliability and capability, while saving potentially hundreds of dollars every month on your phone bill. Contact us today at or to learn more.
With over 19 years of hard work and dedication, Eric has established ECW Computers and ECW Cloud Solutions as a trusted provider of customized IT solutions that drive the success of businesses throughout the country. We are headquartered in Broward County Florida, but over the past 7 years, our footprint has extended to nation-wide support leveraging cloud-first infrastructures, hosting, and modern support. Our focus at ECW is on implementing business-first technologies that directly contribute to achieving your strategic goals.
At ECW, Eric firmly believes in building client-provider relationships based on trust and understanding, rather than resorting to unnecessary upsells. With a genuine passion for helping businesses thrive, Eric is wholeheartedly dedicated to assisting our clients in enhancing their technology, giving them a competitive advantage in their respective industries.