Grateful for Optimization: Why We're Celebrating Tech Innovation This Thanksgiving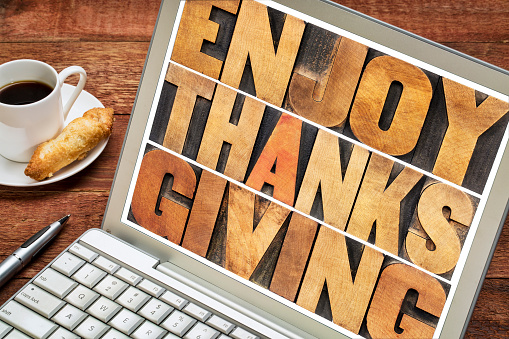 For today's business owners, technology is tightly woven into everything they do. A strong IT platform is literally the foundation of every modern business, however, it's become second nature, so its contributions are often overlooked or undervalued. Professionals become so used to technology being a core part of business operations, that they rarely stop to consider just how big of an impact technology truly makes.
Counting Our Blessings: The Reasons To be Thankful for Business Technology
It goes without saying that if a company's technology infrastructure were to fail suddenly, operations would halt. This could result in countless business hours and opportunities lost. A strategic and reliable technology system that literally keeps your business functioning? Now that's something to be grateful for.
However, the real benefits of modern technology go beyond basic functionality and productivity. It's the way technology has transformed the very business landscape itself that gives professionals the real reasons to be thankful. A huge part of that that innovation has been focused on web optimization in the Cloud.
Have You Thanked the Cloud Lately? Understanding How the Cloud Changed Business
Recent years have seen a surge of Cloud innovation for business. The Cloud has made it easy for businesses to cut costs and optimize processes without making compromises that impact productivity. No matter the size, shape or industry, any business stands to benefit from Cloud migration. Here are the top reasons why:
The Cloud offers business owners the ability to centralize business apps and data in one, easily accessible and scalable place. Business owners can also take advantage of administrative controls in Cloud platforms. This allows business leaders to keep a finger on the pulse of all business operations in one place.
STORAGE & BACK UP SOLUTIONS
In the Cloud, business necessities like data storage and backups are simplified and scalable to meet changing needs and growing business demands. Additionally, recent developments in Cloud security tools, making it the safest place to store and backup data.
Increased accessibility is another huge benefit of the Cloud. Increased accessibility allows businesses to transform their approach to collaborating, sharing information and completing projects. Simply put, the Cloud frees employees from the confines of their office, giving them the freedom to work from anywhere at any time.
Tech Innovation Translates into Business Benefit
In terms of actual infrastructure, there are countless Cloud-hosted solutions designed specifically for business. As mentioned, these solutions help centralize and streamline business data and strategically manage mobility and remote access.
Here are some the leading core business tasks that the Cloud optimizes:
Communication & Collaboration
Having all business applications and data centralized in the Cloud makes it easier than ever for teams to stay connected with clients and colleagues. From dynamic email platforms and strategic tools for real-time collaboration, the Cloud offers an entirely new way to enhance teamwork and keep lines of communication strong.
Many business owners are wary about migrating to the Cloud because of security concerns. However, Cloud platforms offer business owners a variety of ways to keep lines of defense strong. Cloud platforms are designed with built-in threat detection and alert tools to help business owners stay ahead of threats. Cloud platforms also offer dynamic controls that manage access to mission-critical data and applications, which makes security management a breeze.
Cloud computing platforms also allow business owners to keep a constant finger on the pulse of business functionality and productivity. Dynamic monitoring and reporting tools not only help business owners keep platforms secure, they also help them identify areas for optimization and increase efficiency.
Limitless Potential: Reflecting on the Cloud's Strategic Benefits
By removing limitations on when and how employees can get work done, businesses can better tailor services to suit the needs of clients. That flexibility is fantastic for business leaders as well. The Cloud increases the ability to address business more immediately, from anywhere with an internet signal. This makes it easier for business leaders to better manage their team, follow up on leads and address urgent issues as they happen.
Even if issues arise outside business hours, the Cloud makes it possible for business leaders to free themselves from their desk and avoid back and forth trips to the office. Requests can be handled from home and on mobile devices, no matter how far from the office you are or what time of day it is. This allows for increased productivity, a streamlining of business resources and frees up time to secure new business. Who isn't grateful for increased profit margins?
Thanks to the Cloud, boosts to efficiency and productivity have allowed business owners to be much more strategic. Additionally, the Cloud has transformed business operations across countless industries, making the lives of countless professionals easier. In fact, Cloud has become so valuable to business owners, if often makes one wonder what we ever did without it.
Does your company's IT infrastructure leave you feeling grateful? If not, reaching out to a local technology firm for guidance could transform your approach to business technology.
If your business technology doesn't make your life easier, it's time to make a change. Technological innovation is constantly changing the way professionals do business – take advantage and build an IT infrastructure that you and your employees can be thankful for.
With over 19 years of hard work and dedication, Eric has established ECW Computers and ECW Cloud Solutions as a trusted provider of customized IT solutions that drive the success of businesses throughout the country. We are headquartered in Broward County Florida, but over the past 7 years, our footprint has extended to nation-wide support leveraging cloud-first infrastructures, hosting, and modern support. Our focus at ECW is on implementing business-first technologies that directly contribute to achieving your strategic goals.
At ECW, Eric firmly believes in building client-provider relationships based on trust and understanding, rather than resorting to unnecessary upsells. With a genuine passion for helping businesses thrive, Eric is wholeheartedly dedicated to assisting our clients in enhancing their technology, giving them a competitive advantage in their respective industries.