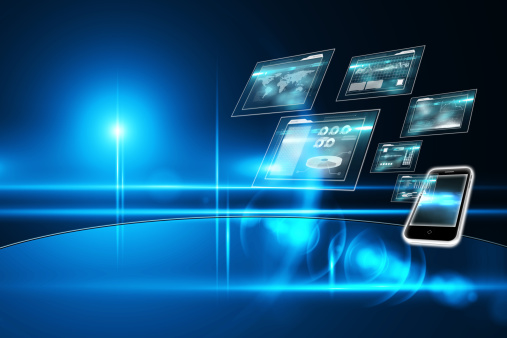 In the business world, the term BYOD (bring your own device) has become incredibly popular. BYOD is a policy in which employees are allowed to use their personal mobile devices to access enterprise data and programs. And this popular policy is helping to shape the way small and large businesses run!
In fact, it's becoming a rapidly growing facet in businesses – consider this: 4 in 10 organizations rely almost exclusively on BYOD! So what are the benefits of switching your business to a BYOD policy? Here's a few of the most common benefits:
Increased Productivity & Innovation
Most employees are more comfortable with their own devices. And when you're allowing them to leverage those devices, they won't feel like they need to master new software or handle a new operating system. Plus, employees will become more productive while working on mobile devices they're already accustomed to.
In addition, most personal devices tend to be more modern and up to date with the latest technology, therefore improving your overall business operations and capabilities.
Cost Savings
When employees pay for their own devices, your business will benefit from major cost savings in terms of purchasing devices, applications, etc. Plus, the costs are in the hands of the employee, who most likely already maintained use on their own device prior to the job. And as it's a personal device, the user typically wants to maintain working condition and perform updates on a regulate basis.
Employee Satisfaction
Often, employees who use their own devices feel as though you're putting trust and freedom in their hands, which leads them to work as best and as hard as they can on their own terms. And they're able to use a familiar device whenever they want, in order to tackle any important tasks at any time. This reduces the need to stay confined in company walls while increasing the comfort of the employee and employer.
So You've Heard of BYOD – But Have You Heard of BYOA? Your Business Can Easily Employ BYOA to Reduce Expenses Associated with Software, Licensing & Training!
So you've heard of BYOD, however, BYOD and BYOA go hand-in-hand. A BYOA (bring your own applications) policy allows employees to select and leverage the applications with which they're most comfortable and efficient. As a result, you're able to save money increasing productivity and workflow.
Of course, business policies will always involve some downsides, such a lost or stolen devices, employee misuse, sensitive data and information leaks, etc. However, the progressive and constructive factors of the two policies can work to create a strong and successful business!
To learn more about BYOD and BYOA, or to discuss how to make these policies work for your business, give us a call at or send us an email at . can help you employ these policies in a secure manner.