REMINDER: Daylight Saving Time Ends Sunday, November 5th: Make Sure Your Employees are Ready to Fall Back Safely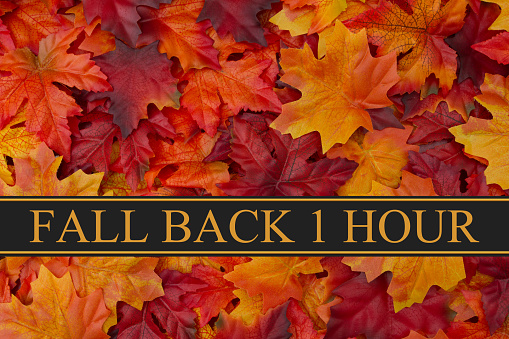 When talking about Daylight saving time and business productivity, the focus is often placed on when Daylight saving time begins in the Spring. We lose an hour of sleep and an hour of business, and it can throw even the most productive of us for a loop. However, there are safety and productivity concerns surrounding the end of Daylight saving time as well. As it gets darker earlier, you may notice your staff looks a little less productive as the winter blues set in.
Staying Safe as We Lose the Light: How Falling Back Can Impact Health & Safety
The end of daylight saving time undoubtedly brings increased safety risks to the worker of all kinds and in all industries. As we get excited to set our clocks back and gain that precious extra hour, the changes to our internal clocks can leave us feeling off and in turn, we're more vulnerable to safety risks like sleep deprivation and hindered awareness.
No matter the industry or employee, here are some tips for navigating these increased areas for risk:
Though the end of daylight saving time can mean more sleep, falling back can still impact workers' internal sleep patterns–making for more tossing and turning before heading to work Monday morning. Also, many rely on the extra hour to stay up late with other activities, making it harder to focus at work and creating a higher risk for injuries and accidents.
Without a doubt, sleep deprivation can delay employee reaction times, impair decision-making, and negatively impact work performance. Employers can combat these risks by reminding employees to slowly start altering their regular schedules as the end to daylight saving time approaches.
As the sun sets earlier in the day, safety should be top of mind for employers to ensure employees leave and arrive at work safely even though its darker. Employers can remind their employees of the following tips:
While many people look forward to their extra hour of sleep, falling back can mean actually mean more hours on the job for shift workers. Employers who have shift-work employees should avoid having employees work back-to-back shifts, particularly the week after daylight saving time ends.
Workplace safety is always important but should be top of mind with the time change. For those workers putting in the extra hours, take extra care to make sure that the workspace is safe by controlling safety hazards and providing bright lighting. Also consider having healthy food options at the worksite, providing a safe place for 20-30 minute naps, and access to safe exercise facilities.
Hits to Productivity
It becomes clear that because of these impacts to sleep, health and safety, business employees can be less focused and in turn less productive at work. As winter sets in and daylight diminishes, people spend more time indoors, get less exercise and socialize less. This can leave employees unfocused, restless and unengaged.
It's no secret that an unmotivated and unengaged team is no good for business. When your employees are unfocused, tired and dragging their feet, core tasks get done slower and operations start to lag. Even worse, the unproductivity can be contagious, trapping employees in a cycle of getting less and less done as the winter settles in.
Strategies to Get Through the Winter: Keeping Employees Alert and Productive Post-Daylight Saving Time
Luckily, there are practical things employers can do to keep their team engaged and help them keep a spring in their step, even with the dawn of winter. Check out these productivity and morale-boosting tips, organized just in time for the end of daylight saving time:
Make the work environment comfortable and healthy
The best and easiest way to keep employees engaged and motivated as the daylight fades is to create a comfortable and healthy environment for workers to arrive at each day.
Keep the office at a comfortable temperature, make sure employee workspaces are ergonomic, ensure you have designated spaces for employee breaks and meals and keep the environment sanitary to avoid the spreading of winter viruses.
Build a culture of employee appreciation and recognition
Everyone needs to be reminded that they're doing a good job now and then. Use the grim end to Daylight saving time as an opportunity to appreciate and recognize your team for their commitment to business demands and goals.
Also, going further to celebrate employee birthdays or offer acknowledgment for personal accomplishments and life events. These small extra moments of connection and celebration really bring the culture of employee appreciation full circle.
Encourage breaks, get physical and have fun
It's important to remember that employees get more done when they take regularly scheduled breaks during the workday. As Daylight saving time ends, be especially prudent about encouraging team members to take breaks.
In fact, you could even implement yoga breaks or walking groups to help employees incorporate some fun and physical activity into their workday. This will keep employees from getting bogged down and will break up the workday, ensuring that work periods are more productive.
Keep minds sharp with training and idea sharing exercises
The best way to keep your team members engaged is to actually engage them. Schedule training upgrades and business workshops for these winter months to serve as brain-boosters that break up the dark and gloomy days.
Even better? Implement a weekly 'check-in' session where employees can share their experiences from the frontline and offer ideas for streamlined improvement. You can even create an incentive program that encourages employees to keep ideas moving and keep minds sharp all winter long.
The official end of longer, sun-shiny days can leave even the best employees unmotivated and poorly focused. However, businesses can prepare for these negative impacts ahead of time. Understanding the impacts and implementing strategies to keep employees healthy, safe and motivated all winter long will help organizations survive the end of Daylight savings time without issue.
Your IT Technology Team issues a reminder to local businesses: don't forget to set your home and business clocks back this Sunday, November 5th, 2017. Even more important? Make sure to take care of your internal clock and fall back safely!
With over 19 years of hard work and dedication, Eric has established ECW Computers and ECW Cloud Solutions as a trusted provider of customized IT solutions that drive the success of businesses throughout the country. We are headquartered in Broward County Florida, but over the past 7 years, our footprint has extended to nation-wide support leveraging cloud-first infrastructures, hosting, and modern support. Our focus at ECW is on implementing business-first technologies that directly contribute to achieving your strategic goals.
At ECW, Eric firmly believes in building client-provider relationships based on trust and understanding, rather than resorting to unnecessary upsells. With a genuine passion for helping businesses thrive, Eric is wholeheartedly dedicated to assisting our clients in enhancing their technology, giving them a competitive advantage in their respective industries.