The electromagnetic waves you pick up with a cellphone or a radio are radio waves, which are basically the same as wi-fi waves. The main difference between these two waves are the length, where AM radio waves are hundreds of meters long, conventional wi-fi waves are only about 12 cm long.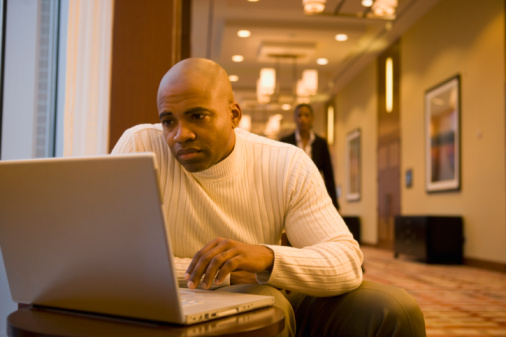 This means that as the wi-fi waves you desire get farther from the router, your signal will get weaker. Generally, these waves can't go more than 150 feet from the router. Along with this, they get absorbed and blocked by walls and metal surfaces, so the positioning of you and your router will make a significant difference as well.
WiFi Network Consulting in Fort Lauderdale
Here are five tips to get the high-speed internet you desire, at even higher speeds:
Situate your router in the center of the office
By being in the center of all devices, as well as out in open, your router will broadcast signal in equal strengths and all directions.
An easy way to find the perfect spot for your router is simply by using your line of sight. Wherever you can see the farthest in your office, or the most number of rooms, is likely a good spot.
Elevate your router off the floor
Routers can't penetrate certain materials that make up floors (like metals, concrete or cement). Also, most routers are designed to broadcast signals slightly downward, so avoid sending your wi-fi into the basement or ground for no reason.
Keep your router away from other electronics
Pretty much anything with a motor (televisions, microwaves, computers, etc.) can interfere with your signal.
Point your router's antennas in different directions
Majority of routers have two antennas. Ideally you would like to have one facing vertically, and the other horizontally. When the internal antenna of a device is parallel to the router's, it works better. As most laptops have horizontal antennas, and mobile devices depend on which way you hold them, keeping one antenna in each direction ensures your highest potential signal for any device.
Measure signal strength.
If you find your internet isn't working quite as well as it should, it wouldn't hurt to take the time to measure your signal strength. There are many apps to help you do this, and from there you can figure out what needs to be done to improve it.
These are all fairly quick and simple tricks that are sure to increase your internet speeds, and that's sure to save you time in the long run. Contact us at or send us an email at for more information.
With over 19 years of hard work and dedication, Eric has established ECW Computers and ECW Cloud Solutions as a trusted provider of customized IT solutions that drive the success of businesses throughout the country. We are headquartered in Broward County Florida, but over the past 7 years, our footprint has extended to nation-wide support leveraging cloud-first infrastructures, hosting, and modern support. Our focus at ECW is on implementing business-first technologies that directly contribute to achieving your strategic goals.
At ECW, Eric firmly believes in building client-provider relationships based on trust and understanding, rather than resorting to unnecessary upsells. With a genuine passion for helping businesses thrive, Eric is wholeheartedly dedicated to assisting our clients in enhancing their technology, giving them a competitive advantage in their respective industries.