Do you ever get scared thinking about how long it would take you to recover from disaster?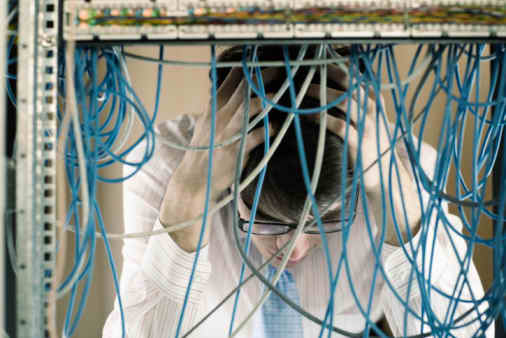 We all know downtime is inevitable. It's no secret: information technology isn't perfect – hardware breaks, software doesn't work properly, equipment becomes outdated, and of course, disasters happen in a moment's notice. Whether it's a natural disaster, human error, or cybercrime, it's easy to lose everything in the blink of an eye. Ultimately, availability is an important business decision. How much downtime can you stand?
If a disaster hits tomorrow, would you be able to get back up and running again? knows you can't afford an excessive amount of downtime. Contact us at or email us at to find out more about what we can do for you.
Do you have an RTO (recovery time objective) planned out so you know the approximate duration of time you're able to restore business processes within the event of a disaster? Are you positive you have the proper backups and procedures in place to easily recover data when necessary?
is here to help you ensure you're able to recover quickly – keeping you productive and profitable in the event of disaster. How do we do that? Our team makes sure to:
Determine what data/applications are vital for you to operate efficiently so we know what's absolutely integral to get you back up and running quickly when disaster strikes.
Take a proactive approach as we sit down with you to determine what your RTO should be, determining how much downtime you can afford to face.
Create the best strategy to ensure you're not left without access to vital resources for an extended amount of time that would damage your profitability and reputation.
We'll make sure you're prepared for the inevitable because we know downtime can have a drastic impact on your ability to serve your customers and stay in business. We're certain the effort, money, and time put into creating a strategy that works for you will be far less expensive than the aftermath of disaster without the proper backups and procedures in place.
Contact at or email us at for more information about how our managed services make IT worry-free. We're more than just your average IT company, we're your trusted technology partners.
With over 19 years of hard work and dedication, Eric has established ECW Computers and ECW Cloud Solutions as a trusted provider of customized IT solutions that drive the success of businesses throughout the country. We are headquartered in Broward County Florida, but over the past 7 years, our footprint has extended to nation-wide support leveraging cloud-first infrastructures, hosting, and modern support. Our focus at ECW is on implementing business-first technologies that directly contribute to achieving your strategic goals.
At ECW, Eric firmly believes in building client-provider relationships based on trust and understanding, rather than resorting to unnecessary upsells. With a genuine passion for helping businesses thrive, Eric is wholeheartedly dedicated to assisting our clients in enhancing their technology, giving them a competitive advantage in their respective industries.