Instagram is taking on Pinterest, Snapchat, and Facebook to compete for a larger chunk of the social content sharing market with a new branding innovation.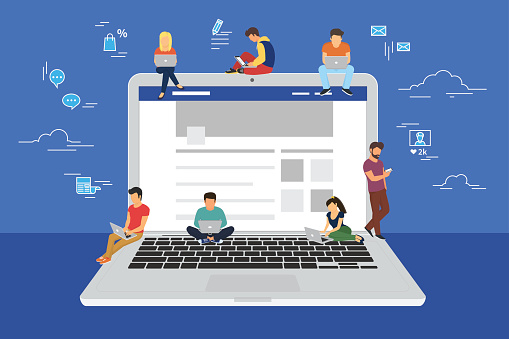 Who is the current king of Social Media? That depends on who you ask. With the variety of social platforms — Facebook, Instagram, Twitter, Snapchat, the list goes on — the king of Social Media title might depend on the user count, the volume of activity, or advertising revenue. Facebook is the dominator in each category, with roughly 2 billion and rising, which is more than Instagram and Twitter combined. However, there's competition, and the most surprising factor may be that Facebook is the biggest cheerleader and mentor!
Platforms carefully — and artfully — construct branding to stand out from their competition. As recently as 30 years ago, branding efforts were generally limited to a logo and a tagline. With the explosion of the Internet, having a company website meant a more complex brand identity.
For example, a "post" on social media platforms is the communication of content in the form of a thought or an image, but Twitter's branding calls these posts "tweets". The terminology of each platform is just as important to its brand identity as its logo. Can you keep up with social slang?
How is a social media king crowned? In this particular battle, user count is important, but the main competition comes down to the power of the brand's marketing. Facebook offers a number of ways to expand the reach of your content and a coveted algorithm for reaching your target audience, but Instagram may have just unveiled a tool to crush at least some of the other players.
Instagram has released a new feature, the "regram", which gives users the choice to share content — for the first time ever — by adding public content from other users to their own Instagram Stories. Yes, this is similar to what Twitter and Facebook users have been able to do for several years, but Instagram is the preferred platform for hundreds of millions of people, including an entire generation of Millennials – otherwise known as the most active group on social platforms.
The "regram" is likely copied directly from Facebook's Share feature since Instagram was acquired by Facebook in 2012. Social users today aren't as interested in reading lengthy content posts, and Instagram has captivated users with its visual storytelling concept. Instagram users can swiftly scroll and absorb content, experiencing a story and taking a quick journey while being exposed to subtle brand-discovery tactics.
Instagram was the perfect complement to the Facebook brand since it was a social platform but not a direct competitor due to the differing communication styles. Instagram is taking a direct swipe at Snapchat, though, and is eyeing Pinterest with keen regard. The design of social platforms is to share content, and this nature has attracted countless brands to vie for a position in the brand discovery war taking place in the social market. A "repin" on Pinterest has proven successful for brands, and it was only a matter of time before these ideas — sharing content (Facebook) and "repinned" Pinterest posts — made their way onto other platforms, especially if there are revenue opportunities!
Instagram eyes Pinterest and its unique position as a search engine for content in visual presentation, especially since brands can successfully optimize content to capture their audience through this platform. The inherent value in visual content is exponentially amplified with its embedded message, and the possibilities are endless. Was the inability to share content on Instagram hindering the platform before its acquisition? Not likely, being that it's the fastest-growing social network, and this sustaining user base growth being the primary attraction that caused Facebook to bid for purchase.
The viral value of the "regram" no longer limits the shelf life of content and boosts the power of the brand and platform influencers. Similar to how YouTube launched the careers of Michelle Phan, whose company is today valued at over $80 million, and Sweden's PewDiePie, a favorite in gamer fandom whose net worth now hovers near $10 million. Instagram is opening doors with the "regram". When current and new influencers begin sharing content with their followers on Instagram and gain new revenue channels, and content partners gain new means of distribution through branded Instagram Stories, Instagram's popularity is about to explode – yet again.
With the "regram", Instagram is proving it's prepared to take on the industry giants shortly. Tackling the fleeting lifespan of visual content, a "regram" is meant to function like a well-understood Facebook Share and be close enough to a Pinterest "repin" to convert users into quick-adopters and become an established daily practice, in hopes of extending content shelf life.
Social media is sticking around, and Instagram knows this. A few things to keep in mind when using Instagram to promote brand content:
Show authenticity and originality.
Originality gives a brand credibility and establishes a sense of trust and loyalty with your audience.
Use your bio to "wow" your audience.
Invoke a sense of individuality and creativity. This is your chance to shine and stand out from all other users and brands.
Hashtags are only effective when used intelligently.
Too many hashtags are annoying and alienate your audience. The most successful trending topical hashtags are simple, concise, but still fun.
It's worth repeating: Engage. Engage. Engage.
Engaging with your audience instead of talking to them will always yield a more positive relationship.
Show some love: Featuring fans builds solid relationships – and loyalty.
When a brand features a customer's name or words, it deepens the bond and strengthens the sense of loyalty to the brand.
Instagram has always held potential for brands, but its updated vision includes the use of the platform as a solid revenue channel. Now brands have the opportunity to gain more traction with content and expand their brand reach to the audiences of their followers – potential new customers.
Instagram should be part of a brand's digital marketing mix, given the enormous potential this feature offers, and this is likely just a glimmer of the features Instagram has in store for users this year. The dissemination of content is the ultimate goal of a brand using a social platform, and an effective media strategy dances around the intricacies and algorithms involved.
Instagram is far more than the jester at the royal court, playing back-up to others' rule over the social sharing world – Facebook is right there with it, helping every step of the way with the expertise to solidify their status.