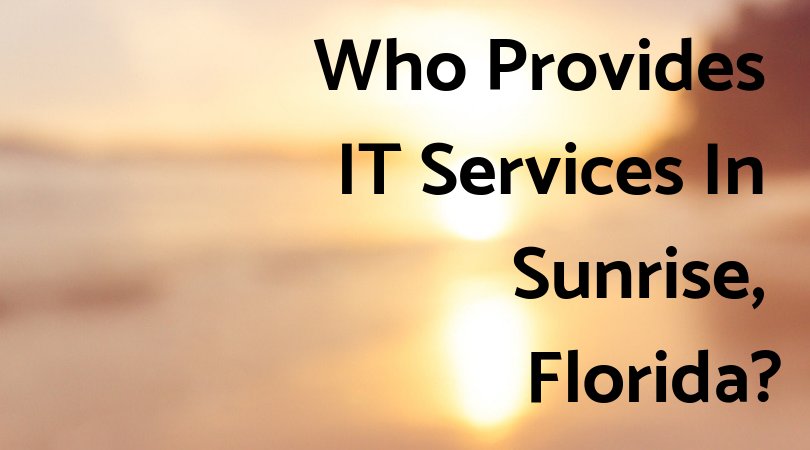 Are you looking for reliable computer networking services? With ECW Computers, you have a comprehensive solution for business computer services in Sunrise FL.
ECW Computers offers the highest quality computer and network support. We not only can fix your pressing IT problems but help your company maximize your technology investment. With innovative, reliable and new technology, your company can meet all its business goals and objectives.
Stop letting your IT challenges get in the way of your company's progress. Our computer networking experts provide simple, effective and affordable solutions in Sunrise and throughout South Florida.
What Separates ECW Computers from the Competition?
With ECW Computers, you're partnering with an experienced computer networking support company. Based in Deerfield Beach, FL, we serve businesses throughout South Florida, across the nation and internationally.
With ECW Computers, your company can:
Decrease downtime of computers, apps, networks and systems, driving more employee productivity and results
Focus on core business objectives while our experienced engineering teams monitor and maintain your technology
Achieve IT budget predictability with fixed monthly fees for your IT expenses
Remain protected from emerging cyber threats that try to gain access to your systems and data
Leverage new technology faster to gain a competitive advantage
What Is Managed IT and How Can It Help My Company?
Managed IT provides a range of services tailored for your company at a predictable monthly rate. Our solutions include:
Remote help-desk support for your employees to manage hardware, software and mobile devices and resolve problems. Our experienced help-desk professionals can:

Install, configure and run your hardware and software applications
Assess and repair network and PC issues
Address technical issues with peripheral devices such as printers or mobile devices
Reduce work disruptions related to technical problems
Detect and remove viruses, spam and malware

Monitoring and maintenance of your system to provide stability and compliance with any regulatory requirements
Data backups and comprehensive protection of your data and applications
Preventative maintenance on hardware and software
What Are my Options for Networking?
Using Microsoft Azure solutions, you can leverage the latest technologies to connect cloud and on-premises technologies on one of the largest fiber network backbones. Azure solutions allow you to add multiple network functions, including:
Virtual networks
Load balancing
Application gateways and firewalls
VPN gateways
Content delivery networks
Traffic management
DDoS protection
Should I Move My Business to the Cloud?
Cloud solutions are a powerful way to accelerate how business is done at your company. Hosting your data and applications in the cloud gives your company more flexibility and function.
Your company benefits from the following:
Accessibility to data and apps from anywhere, at any time and on any device. For employees traveling, working from remote locations or telecommuting, cloud solutions give them connections to information in real time via any web browser.
Flexibility by customizing what applications and features are used in the cloud and leveraging solutions you already have
Scalability on the fly that lets you expand rapidly to address acquisitions, employee hires or business growth or contract to respond to cyclical business demand
Security with digital and physical protection for your data and apps in the event of a natural disaster or cyber attack
Cost savings. With a hosted solution, you no longer need to worry about buying, housing, powering and cooling servers and data centers.
How Do I Keep My Company Data and Systems Safe?
Cyber attacks are continually emerging and evolving. That's why your company needs a comprehensive approach to security.
Our solutions provide a range of defenses:
Managed firewalls that monitor traffic in and out of your network, identify and neutralize potential threats and prevent malicious threats from entering your system
Managed anti-virus software installed on your workstations and updated automatically to prevent viruses and malware
Managed email protection to stop phishing and spam attacks from getting to your employees' inboxes
Two-factor authentication that requires multiple verification methods. Usernames and passwords are no longer enough. Adding biometric scans, cards, or texted codes to your authentication processes boosts security.
Also, our business continuity services provide your company with added peace of mind in the event of a disaster. Our experts help develop policies and procedures that keep data protected and usable when a natural or man-made disaster arises.
Our business continuity consulting prevents data loss, identifies potential risks and corrects problems. We create a disaster recovery plan for your business that's tested to guarantee performance. Your data backups are continuously monitored and validated before a restoration. Our goal is to eliminate or minimize downtime to keep your business operational.
Should We Worry About Employees Using Mobile Devices?
Companies today rely on employee mobility to keep them connected. Most companies today have bring-your-own-device policies, meaning a range of vendors, models and operating systems.
A mobile device management solution helps businesses seamlessly incorporate devices of all types into their networks, whether employee- or company-provided. With proper policies and procedures in place, mobile device management can:
Find, lock or wipe a mobile device remotely
Separate personal and business data on the same device
Provide constant security
Use encryption and secure passcodes
ECW Computers is a proven partner for business computer services in Sunrise FL. To schedule a free on-site IT assessment and learn more, contact us today.
ECW Computers is an information technology company. Headquartered in Deerfield Beach, FL, we specialize in providing unique, specially-tailored Managed IT solutions to businesses in Fort Lauderdale, West Palm Beach, Miami and across South Florida.