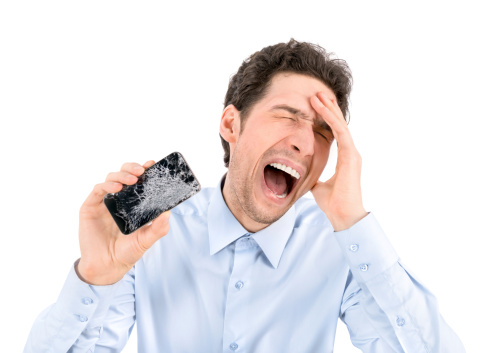 It hasn't even been one week since Apple rolled out their latest version of the iPhone and iPad operating system, iOS 8, and already we have its first update. Seems like Apple is pretty quick to respond to feedback and introduce some changes.
But don't rush out to download this latest version, because some people are reporting that the iOS 8.0.1 update is knocking out their cell reception and their Touch ID fingerprint reader, according to a recent article from ZDNET.
A recent stream on Twitter is reporting that after the upgrade, many people are unable to get a cell signal. Their iPhones are stuck in "searching for signal" mode or just getting a NO SIGNAL message. Ouch. Even though lots of people don't really do much actual phone calling on their phones anymore, you still need that signal to text and to access your data plan.
ZDNET confirmed the issues after some testing was done in their New York City newsroom with the iPhone 6 running on the T-Mobile network. They also can confirm the issue on the iPhone 6 Plus in the UK.
Good news for those running older iPhones, though: This update seems to only impact the iPhone 6. If you weren't one of the die-hard fans who lined up outside the local Apple store at the crack of dawn earlier this week, you might want to hold off before you try to get your hands on the new phone.
Also, iPads were tested, and they too passed the upgrade test. So no worries when it comes to your tablet.
iOS 8.0.1 offers improvements and bug fixes for HealthKit and addresses some challenges with third-party keyboard issues. There was zero mention of the update offering better battery life or fixing some of the reported stability issues some users have complained about. There is also no mention to any security holes being filled.
This latest update works on iPhone 4s and later, iPad 2 and later, iPad mini, and the iPod Touch 5th Generation. If you use any of these devices, keep an eye on news about updated operating systems before you immediately go and download. Even though this current issue seems to only be affecting iPhone 6, you never know what problems might crop up until you check the news.
Have questions about updating your iPhone or iPad? Your IT team at is here to help. Just pick up the phone and give us a call at or drop us an email at . We are here to help you and your business use technology efficiently and ensure you meet all your business objectives. We take mobile computing seriously, and we'll make sure you can use your latest devices without worrying about security risks or incompatibility with your other systems.
With over 19 years of hard work and dedication, Eric has established ECW Computers and ECW Cloud Solutions as a trusted provider of customized IT solutions that drive the success of businesses throughout the country. We are headquartered in Broward County Florida, but over the past 7 years, our footprint has extended to nation-wide support leveraging cloud-first infrastructures, hosting, and modern support. Our focus at ECW is on implementing business-first technologies that directly contribute to achieving your strategic goals.
At ECW, Eric firmly believes in building client-provider relationships based on trust and understanding, rather than resorting to unnecessary upsells. With a genuine passion for helping businesses thrive, Eric is wholeheartedly dedicated to assisting our clients in enhancing their technology, giving them a competitive advantage in their respective industries.