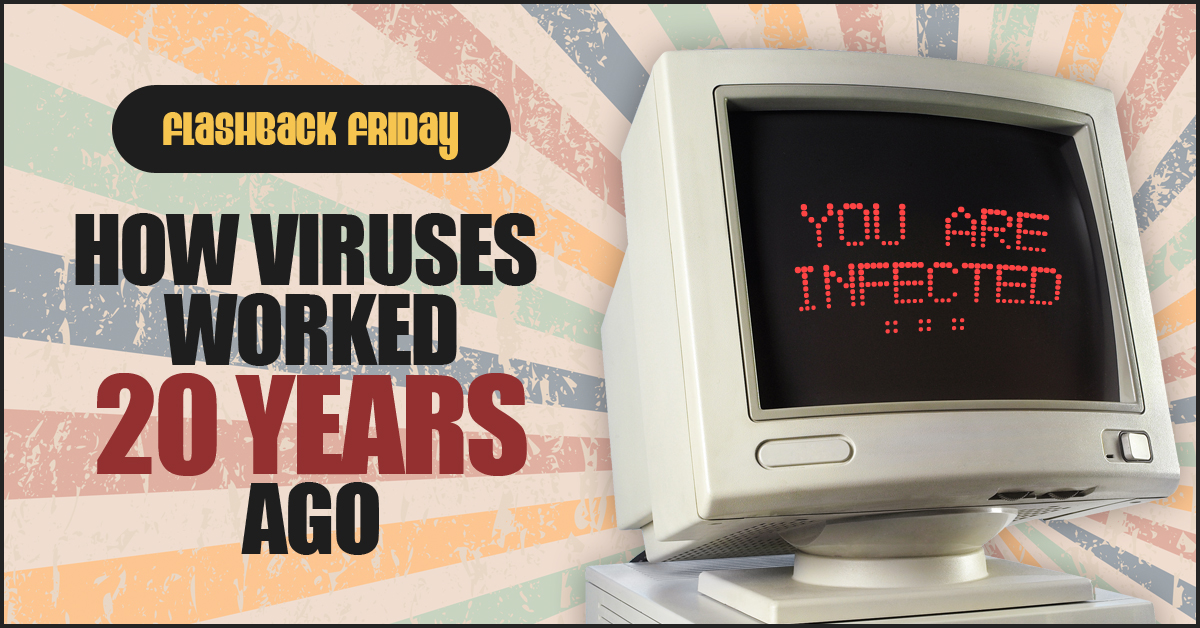 There are viruses that can be implanted on a computer in 2017, and lie in wait until a network becomes vulnerable before attacking. Unfortunately, viruses have come a long way from 20 years ago. The term virus was coined early on in computer history, but it's every bit as relevant today as it was then. Just like biological viruses adapt to Purell and antibiotics, so too have viruses learned to adapt to new security measures.
Brain in 1986
Brain was the first reported computer virus on DOS, and was announced in January of 1986. It spread via floppy disk, and spawned generations of hackers with its ability to move from computer to computer. Brain appeared to be little more than a prank (courtesy of two developers in Pakistan), a joke in which the hackers actually revealed their real location in the text of the virus. Because the virus did little to harm people's data or machines, it often went entirely unnoticed by users.
The Evolution
Today we refer to viruses as a specific kind of malware, one that can self-replicate and continue its destructive path indefinitely. While Brain may be one of the famous early viruses because it came about when computers were experiencing more ubiquity, self-replicating programs date back to the 1940s. Programs in the early days might slow down processing time, taunt users with cryptic messages, or severely impact performance. Once Brain was no longer a news items, new forms started to pop up. The ones that followed famously infected files from Yale University, destroyed files in Jerusalem, and exploited computers that were known to have buffering vulnerabilities. Viruses could be the product of hackers, or sometimes of legitimate company's software.
Viruses Today
Viruses have gotten faster and more efficient to make them a force to be feared. They can delete photos, files and entire storage libraries. They're developed to target Word, Outlook, Windows OS, Mac OS — nothing is safe. They can be designed to affect Facebook or Twitter users, or programmed to steal credit card information straight for the source. Hackers may be out for pure destruction or chaos, or potentially for ransom. The more the average person understands them, the faster hackers create new tricks to get in. Viruses can come in the form of a pop up, an email from a coworker, or a completely undetectable program that waits until the time is right.
Protection for Everyone
The physical world will never provide total safety, and the same holds true for the virtual world. But there are preventative measures you can take to safeguard your company from viruses that go beyond anti-malware and perimeter protections. Security needs to have layers to fend off the intelligent viruses of 2017.
is the trusted choice when it comes to staying ahead of the latest virus developments and can provide you with tips, tricks and news. Contact us at or send us an email at for more information.
Used by permission
With over 19 years of hard work and dedication, Eric has established ECW Computers and ECW Cloud Solutions as a trusted provider of customized IT solutions that drive the success of businesses throughout the country. We are headquartered in Broward County Florida, but over the past 7 years, our footprint has extended to nation-wide support leveraging cloud-first infrastructures, hosting, and modern support. Our focus at ECW is on implementing business-first technologies that directly contribute to achieving your strategic goals.
At ECW, Eric firmly believes in building client-provider relationships based on trust and understanding, rather than resorting to unnecessary upsells. With a genuine passion for helping businesses thrive, Eric is wholeheartedly dedicated to assisting our clients in enhancing their technology, giving them a competitive advantage in their respective industries.